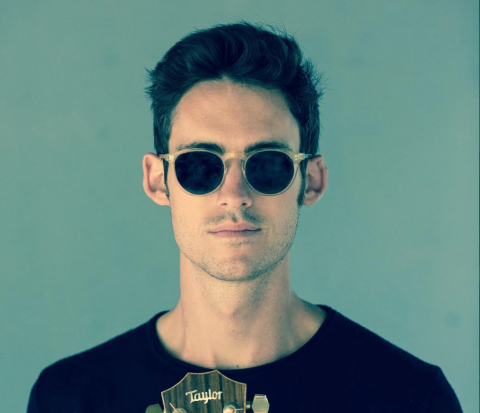 NOVEMBER 2017
Prince or Michael Jackson?
Prince. Badass guitar player as well.
Stevie Wonder or Ray Charles?
Stevie
Tupac or Biggie? 
Biggie
Paul McCartney or John Lennon?
John Lennon
Sam Cooke or Marvin Gaye? 
Sam Cooke. One of my all time favorites.
Name 3 musicians/groups that you will listen to for the rest of your life.
Beatles. Hendrix. John Mayer
Who were you listening to before sitting down to answer all these questions?
Portugal the Man's "Feel it Still" - what a jam.
What style would YOU call your music?
Pop/Indie/Soul
How old were you when you started playing music and who got you going?
15 years old. My dad is also a guitar player and he showed me Jimi Hendrix's "Are You Experienced," and I knew I had to play electric guitar. And I became obsessed.
First song you ever wrote; what was it about? When is the last time you played it?! 
First song I ever wrote was at 16 years old, to ask my NOW WIFE to be my girlfriend. Haha! It was 7 minutes long, my voice was cracking, and it had 3 bridges. It was all about how I "liked her more than a friend." I recorded it to a CD and dropped it off on Sarah's doorstep late one night. It took her 2 weeks to respond (worst 2 weeks of my life!). Luckily she said yes and we have been together ever since, 30+ songs later. They've gotten a little better since then…
What do you remember about your first public performance? 
It was a high school battle of the bands. And I was really nervous but also somehow really confident. I think we got 3rd place. But I remember it was the BIGGEST show in the world, playing for half the school in the auditorium. 
Tell us about one of the best gigs you ever played
One of the best was definitely opening for 2Cellos at the Escondido Performing Arts Center. I hadn't heard of 2Cellos- they are an awesome virtuoso cello duo from Europe who play modern covers and originals. I got the call for the gig a week before, and it had already sold out- 1,500 seats. And it was the kind of show and venue where you can hear a pin drop. Everyone is there for the music and it is a listening room vibe but in a large theater with amazing acoustics. One of the best nights ever. 
Tell us about one of the weirdest gigs you ever played
One of the weirdest but in a good way was a show I played in Oaxaca, Mexico while on tour down there. Somehow I got a nice write up in the local newspaper, which promoted my show at this little club in the center of the city. I show up and it was packed, and people were singing along to some of my songs in English. That was a bizarre feeling in a foreign country where I'd never been to play shows. 
What are a couple of your most proud achievements as a musician?
I think one of the proudest achievements is the moment I leapt and made music full time. I didn't think I'd get to that point. AND a huge reason I was able to do that was from Acoustic Spot gigs :) But besides that, I think: writing with some major hit writers- grammy winners, developing a great relationship with Taylor Guitars, and just being able to travel the world and play my music. Whether the shows are big or small, I'm so lucky to create and perform for a living!
Any local or up-and-coming musicians you love that more people need to know about? 
Nina Francis, Sarah Rogo, Ian McCartor
Any advice to your younger self or other musicians starting out?
Be in it for the music. Always. Don't compare. And limit time on social media!